News & Events
---
Top 50 Enterprises In The Printing And Packaging Industry In Suzhou, Executive Vice President Unit Of Kunshan Printing And Packaging Industry Association.
The main ways of designing carton box packaging without tape
The main ways of packaging design for tape free carton boxes
Packaging tape free carton boxes and tape free carton boxes are now very popular in the market and people are demanding for various tape free carton box packaging designs. Therefore, there are several different ways to design the production of packaging cartons or cartons in the market as follows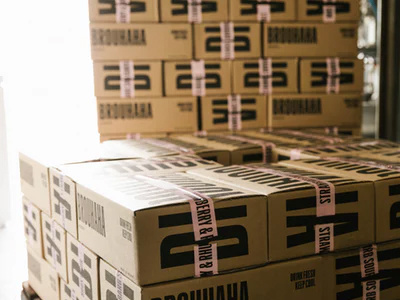 The main design methods for carton or box production are as follows.
① single-sided corrugated board (single sheet), offset color printing face paper (single sheet) → glued paperboard → die-cutting slot → glued nail box
② corrugated board production → cardboard direct printing (flexographic) → die-cutting slotting → gluing nail box
③ micro corrugated cardboard production → micro cardboard direct offset printing → die-cutting slotting → gluing nail box
④ web pre-printed face paper (gravure, flexo), corrugated composite laminating line → computerized slitting → computerized cross-cutting → die-cutting and slotting → gluing and stapling boxes, the features and advantages of which are as follows.
Tape free carton box packaging structure design strategy and functional analysis
One method is to use offset printing corrugated carton paper, and then corrugate with a single machine lamination. This method can print out beautifully patterned cartons and improve the printing quality of carton products, but it also generates other problems: complex production process, long production cycle; low carton strength, high scrap rate and high production cost; large production site, high labor intensity; limited printing format; and inflexible delivery time.
The second method is direct flexographic printing on corrugated board, which is characterized by fast drying of ink, fast printing speed and low cost, and is especially suitable for corrugated board that does not require high printing accuracy.
The third method is micro-corrugated cardboard with fine patterns obtained by offset printing, which is a new material and printing overlay process technology. Microcorrugated produces packaging products with low grammage and high strength, while direct offset printing of color corrugated board has the characteristics of short production cycle and good dimensional stability.
The fourth method can produce various grades of cartons. The requirements for grade cartons are that the printing pattern be exquisite and that the strength of the corrugated board not be affected. To meet such requirements, a more desirable method is preprinting, which includes two types of printing: gravure preprinting and flexographic preprinting.
Custom cartons need to be selected according to the object. Tape-free cartons cartons play a very important role in packaging. Commonly used cartons have three and five layers, and the seventh layer is used less often. Each layer is divided into inner paper, corrugated paper, core paper, and top paper. The color and feel of various papers are different, and different manufacturers produce different papers.
Custom materials for large cartons. In the selection of materials, we should combine the characteristics of the products to be packaged, whether they need strong moisture and water resistance or strong compressive properties, to the purpose of packaging as the requirements. Choose the right material to reduce unnecessary waste.
The custom size of large cartons. When customizing the carton, it is recommended to measure the size of the product to be packaged, such as length, width, height, weight, etc. Also figure out the size of the outer box and the size of the inner box.
Small starting order for large cartons. Some manufacturers use sets as small starting units. Regardless of which calculation method is used, it is recommended to customize as much as possible at once, because most manufacturers say that the fewer cartons the more expensive. While mass customization can save money, it is important to take into account your situation and storage environment. Of course.